We are professional Self Propelled Work Platform 25-27M supplier and factory in China.We can produce the product according to your requirements.

Self Propelled Work Platform 25-27M Product Features

GTBZ25 & GTBZ27Z SELF PROPELLED AERIAL WORK PLATFORM (TELESCOPIC BOOM)
High Safety of Body Structure
Patented Weighting System

It can accurately weight what on the platform with automatic division of various load levels; Precise Weighting Ability in all locations of the platform for objects or human beings; Automatic power cut-off and alarm with light and sound when the platform is over-loaded.
Patented Socket Tow-Chain System:it avoid serious disorder and rupture of the cables and oil-pipes, which is caused by over-bending of boom and cantilever tow-chain.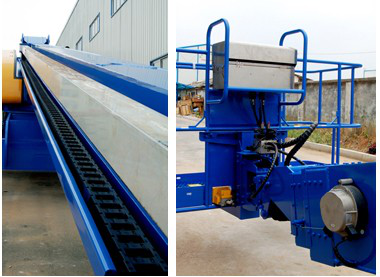 Unique Lift Arm Design and Structure
The boom is made of high-strength steel plate, which guarantee our products having sufficient strength ,resistance ability to deformation. Through the methods of finite element analysis and dynamic simulation, the boom can realize lightweight design.



Travelling System
Axis Oscillating: driven by hydro-cylinder, the wheel axis oscillating can fully ensure stability of the whole machine when working.



Four-Wheel-Drive and Solid Tires: four turning modes including front-wheel, rear-wheel, front &rear turning and slanting drive, powerful gradeability.
Electrical Controlling System
Automatic Range Restrictor: safety alarm, auto speed-limiting and range restriction function which is controlled by intelligent system.
Double Sensors and Dual-poop Protecting Circuit: to guarantee high reliability and durability of the whole electrical controlling system.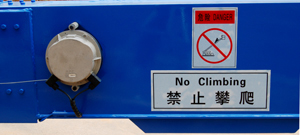 Advanced CAN-BUS Controlling Mode: simple circuit, easy maintenance and excellent reliability.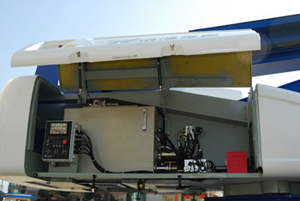 High-Quantity Steel Connector of Aerial Craft: the protection level reach IP65.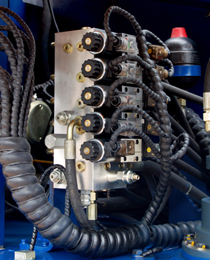 Emergency Power Unit: ensures retracting in case of engine failure.
Humanizing joystick: makes operators feel convenient and comfortable.
Emergency Power Unit and Joystick of control box



Hydraulic Press System
Made-in-European or in-America hydraulic parts ensure a high reliability. All moves are achieved through stepless change-over by electric-hydro proportional valve, which enhance the machine's jiggling ability.
The hydraulic system are composed of oil-absorbing filter, high-pressure filter and return oil filter, Which fully ensure the cleanliness of the hydraulic oil.
Engine                                            VALVE                                                  PUMP


Parameters
Main components list
| | | |
| --- | --- | --- |
| NO | Name | Brand |
| 1 | Engine | Cummins from JapanOR Perkins fromUK |
| 2 | Variable pump | Rexroth from German OR SAUER fromUSA OR Sam fromItalyOR Eaton fromUSA |
| 3 | Gear pump | MARZOCCHI fromItalyOR SALAMI fromItaly |
| 4 | Travel motor | Rexroth from German OR SAUER fromUSA |
| 5 | Travel reducer | Rexroth from German OR Reggiana Riduttori fromItalyOR PMP fromItaly |
| 6 | Hydraulic valve | Oil-control from ItalyOR Hydroforce fromUSA |
| 7 | Rotary motor | HELAC fromUSA |
GTBZ25 & GTBZ27Z TELESCOPIC BOOM
Measurements Specifications


MODEL

GTBZ25

GTBZ27Z

MEASUREMENTS

Metri

US

Metri

US

Working height maximum *

26.9m

88ft

28.4m

93ft

Platform height maximum

25.2m

83ft

26.7m

88ft

Horizontal reach maximum **

21.9m

72ft

23.4m

77ft

Below ground reach

2.56m

8ft

3.73m

12ft

A

Platform length-8ftmodel

0.91m

3ft

0.91m

3ft

Platform length-6ftmodel

0.76m

2ft

0.76m

2ft

B

Platform width-8ftmodel

2.44m

8ft

2.44m

8ft

Platform width-6ftmodel

1.83m

6ft

1.83m

6ft

C

Height-stowed

2.8m

9ft

2.8m

9ft

D

Length-stowed

11.36m

37ft

12.46m

40ft

E

Width

2.49m

8ft

2.49m

8ft

F

Wheelbase

3.0m

8ft

3.0m

8ft

G

Ground clearance-center

0.43m

1ft5in

0.43m

1ft5in

PRODUCTIVITY

Lift capacity (restricted)

480kg

1056lbs

480kg

1056lbs

Lift capacity (non-restricted)

260kg

572lbs

200kg

441lbs

Platform rotation

160°

160°

Jib rotation

—

135°

Turntable Swing

360°continuous

360°continuous

Turntable tail swing

1.32m

4ft4in

1.32m

4ft4in

Travel speed -stowed

5.3km/h

3.3mph

5.3km/h

3.3mph

Travel speed -raised or extended

1.1km/h

0.68mph

1.1km/h

0.68mph

Gradeability -stowed (2WD)

30%

30%

Gradeability -stowed (4WD)

45%

45%

Turning radius - inside

3.59m

11ft9in

3.59m

11ft9in

Turning radius –outside Turning radius - axle extended outside

6.25m

20ft

6.25m

20ft

Controls

24V DC Proportional

24V DC Proportional

Solid tires

12.00-20/8.5

12.00-20/8.5

POWER

Power source

Commins B3.3 75HP (56kw) Perkins 400 76 HP (56kw)

Auxiliary power unit

24V DC

24V DC

Hydraulic tank capacity

190L

190L

Fuel tank capacity

150L

150L

WEIGHT

2WD

16300kg

35860lbs

16440kg

36168lbs

4WD

16380kg

36036lbs

16520kg

36344lbs

STANDARDS COMPLIANCE EN280、JG/T5101、Q/ADZV001-2008