Product features
Multifunction wheel loader is a new generation wheel loader developed and produced by Attack Global(HongKong) Co., Ltd., which can be used for material loading and unloading, short-distance transportation, can be installed with various of attachments, which can achieve multi-purpose of lifting, traction, clamping, digging, and drilling, raking the ground, weeding, feeding and so on, widely used in farm, ranch, infrastructure, road construction as well as stations, docks and other operating conditions.
1. Driven by four separated gerotor motors which can bring great gradeability and road adaptability.
2. The dimension of machine is small and flexible. Height is under 1950mm and width is under 980mm, ground clearance is 180mm.
3. Adopt forerunner foot valve, which can adjust the discharge capacity of main pump and control the forward and reverse of machine.
4. Apply entire GRP on bonnet, which owns character of beautiful appearance and easy maintains.
5. Quick change with various attachments.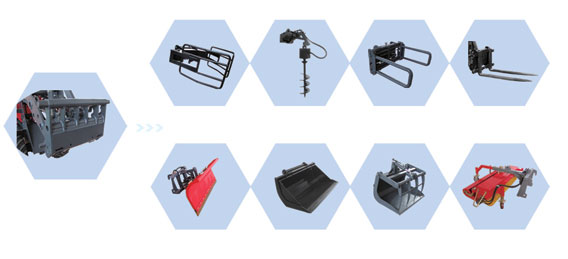 Overall dimensions